Improving Reliability of LV Overhead Networks
Client need
Northern Powergrid (NPg), a Distribution Network Operator (DNO) serving the north-east of England, were keen to further develop the analytical techniques VisNet® and EA Technology developed during the world-leading Foresight project on their Low Voltage (LV) underground services.
Where Foresight analysed LV underground, urban networks connected to ground-mounted substations, the Polesight project will analyse LV overhead networks more commonly found in rural areas but also feeding older properties in some towns. Equipment will be deployed at pole-mounted substations in rural locations, villages and town peripheries. The project will analyse faults using existing algorithms to see where OHL faults differ from those seen underground.
Having more information on faults and outage causes will enable NPg to fix faults on their network faster and more efficiently. This will lead to a more resilient and reliable network for their customers.
Our approach
VisNet is committed to providing a comprehensive and reliable monitoring solution for select pole-mounted substations. This involves specifying, designing, building and supplying Guards and VisNet Hubs which will monitor OHL LV circuits around the clock. By analysing the data collected from these devices, VisNet will be able to identify characteristics and trends that could indicate potential faults or pre-fault activity, and develop algorithms for predictive insights.
In the event of a fault or the presence of pre-fault activity, we will work closely with NPg to find common signals that precede such incidents, enabling pre-emptive interventions. With this comprehensive approach to monitoring,
VisNet
is poised to deliver unprecedented reliability and security for pole-mounted substations.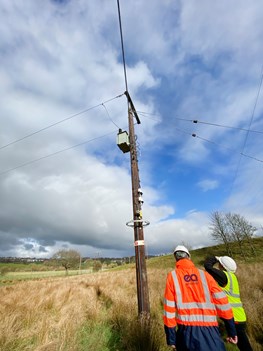 Benefits
Innovation in the power industry has led to a growing demand for smarter and more efficient energy grids. Northern Powergrid is stepping up to the challenge with their commitment to finding new and improved ways to deliver better value to their customers.
By utilising existing models from the Foresight project, the
VisNet
and EA Technology aims to compare and contrast how faults develop and manifest on overhead and underground lines. This will lead to faster localisation and restoration of faults, as well as detecting and locating developing LV faults before they result in supply interruptions. Ultimately, these proactive fault management methods will improve the quality of supply to the customers of Northern Powergrid, ensuring that everyone benefits from a more intelligent and flexible smart grid.
Why this is relevant to your project
Learning gained from Polesight will allow Guards and VisNet Hubs to be used to more accurately monitor networks where they are installed. It will also support Northern Powergrid in improving their understanding of how faults develop and can be proactively managed ahead of a full fault occurring and taking customers off supply. This will enable distribution network operators to improve the reliability and resilience of the energy supply for their connected customers.
Testimonials
"As we decarbonise, reliability of the electricity network is more important than ever. Foresight allowed us to start addressing underground faults before they impacted customers and the natural progression to allow us to address other network types is Polesight. Many of our LV networks are a mixture of underground cable and overhead line. Polesight will allow our linesman to deploy network monitoring and diagnostics at HV pole-mounted substations without requiring HV or LV outages, an important consideration for rolling out these devices at scale and allow us to further develop analytical methods for pre-fault detection on these mixed networks. An added benefit is that the devices also act as LV monitors so we can improve our visibility of demand and voltage at pole-mounted substations."
Francis Shillitoe, Polesight Project Manager from Northern Powergrid
"Projects like Polesight are crucial to improving the understanding of how faults develop on Low Voltage (LV) networks. Investigations into pre-faults on Overhead Lines will allow EA Technology to tailor analytic techniques previously developed for LV underground cable networks for their overhead counterparts. This learning will be used to improve the reliability and security of the LV network, where monitored by EA Technology products. It is exciting to continue to work with Northern Powergrid in this follow up project to the successful Foresight Project."
Louise Guthrie, Project Manager at EA Technology