No.1 in locating underground LV faults.
CableSniffer™ is a revolutionary tool that eliminates the need for extensive excavations when locating faults in cable insulation. By analysing the gases emitted during the breakdown of cable insulation, CableSniffer can pinpoint faults with incredible accuracy in less than an hour. This saves time, money, and resources, making it the preferred method for locating underground Low Voltage cable issues in the UK.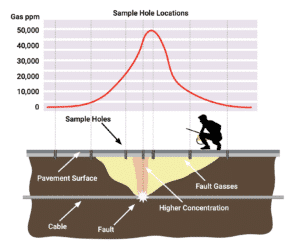 With CableSniffer, customers can expect faster and more reliable results compared to other methods. The instrument detects the highest concentration of gas directly above the fault, allowing for precise identification and efficient restoration of supplies to customers. This means fewer disruptions to road surfaces and significant cost savings in terms of time and materials.
In addition, CableSniffer can work in tandem with our Reclose and Hub systems, further enhancing fault-finding capabilities. This powerful combination ensures quick and effective solutions to cable issues, delivering results you can rely on.
Discover the benefits of CableSniffer and experience a smarter way to detect faults in underground cables.
CableSniffer – CS2
Ready-to-use kit, including test hole drill
Easy to transport and use, with minimal training need
Used by every UK Distribution Network Operator
IP54 Rated
User-defined multilingual support
Calibration reminder
Large display screen
Facts
Finding underground cable faults with trial excavations wastes time and money, let the CableSniffer locate the fault before excavation takes place
Each CableSniffer will typically pay for itself in days – and keep saving you money for every fault it locates
Business Benefits
Average 50% cost savings on fault location and reinstatement
Even greater savings where there are time-based penalties for disrupting highways
Under one hour typical time to locate each fault – a fraction of the time taken with conventional methods
Much faster restoration of services – making customers and stakeholders happy
Far fewer holes and trenches – with much less disruption and environmental damage
No need to locate faults by breaking and re-jointing healthy cables – which can introduce new faults
20 years' track record of effectiveness in the field
Immediate return on investment plus repeated year-on-year savings
Easy to use with minimal training
Portable and easy to transport – an ideal addition to engineers' fault location tool kit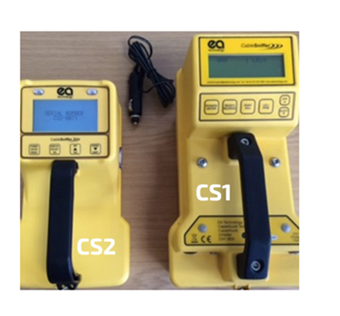 Sign up to our newsletter
Learn more about our market-leading LV products and how we're supporting the world's transition to decarbonisation.
Find out how we have helped clients develop and deploy scalable Low Voltage solutions.